A straightforward summary of low-code
Nowadays, business processes can be created or modified in workflow systems using the so-called low-code / no-code method. In recent years, companies have invested a lot of time and energy in software development.
Low-code platforms promise the faster completion of projects with customer feedback integrated into agile software development right from the start. Low code development platforms typically use visual, declarative techniques instead of traditional programming lines. These platforms are available specifically for corporate business processes and developed for design and operation. The graphics with the elements created on this interface make it possible to connect corporate systems and data.




The essence of low-code development
The essence of low-code development is that instead of traditional handwritten programming, one can build applications through graphical interfaces. By using this method, one can create various business processes or even automate certain business processes or steps in a graphical editing interface using minimal or zero coding. One can use the development tool in a drag and drop manner, and the codes are generated in the background.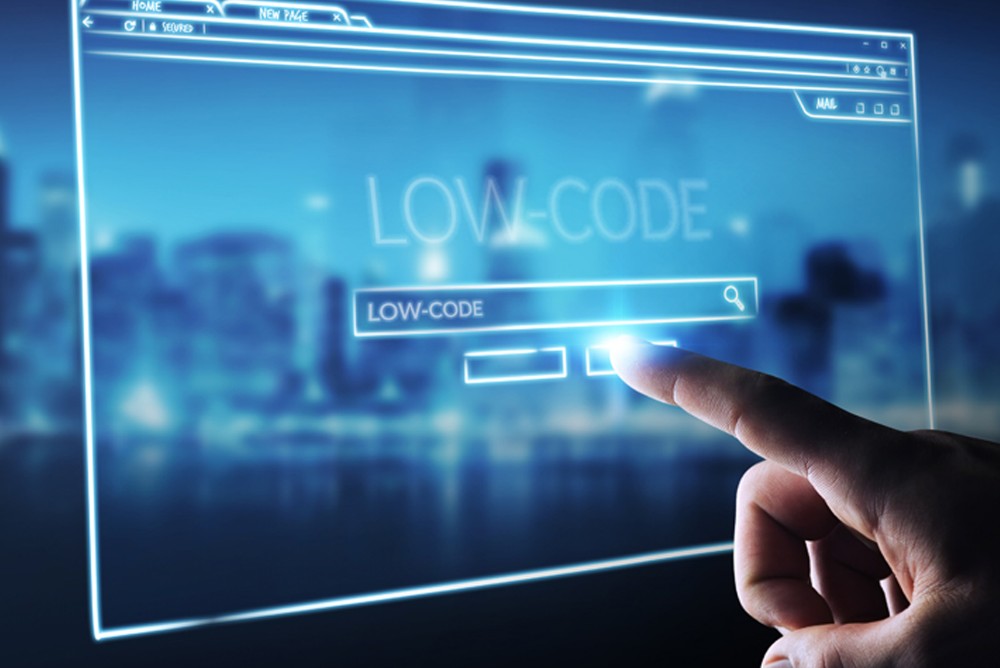 One can quickly create and implement business applications effectively with minimal manual coding. In practice, these are achieved by creating business applications from the prefabricated (preprogrammed) modules of the low-code development platform without programming knowledge, using the cursor only. The developer can put the application's functions together with the help of the interface - functions, checkboxes, circles, etc. - in accordance with the business process. Then the built-up functions can be connected with lines and arrows on a virtual board - from which the platform automatically generates the application. However, this step may require some developer support, as some modules may need to be customized and modified. In addition, the implementation and integration of the application also remain the responsibility of IT departments.
Any business application can be built with low-code development techniques. According to a 2020 survey by Forrester, the following areas use this platform the most: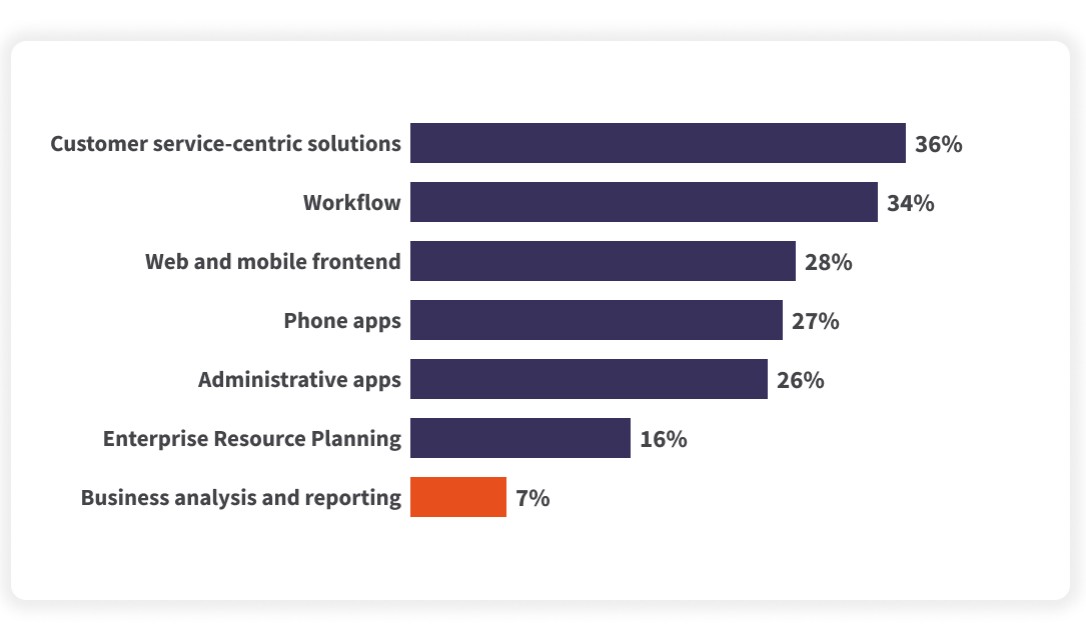 How does it work – an

overview

for software beginners who have really big plans
Using classic drag and drop modules, any business can develop applications for itself - almost independently. A customizable platform that allows the building of applications that meet individual needs. It can be easily integrated into existing enterprise IT systems.

The definition comes from Mendix, which is one of the platforms that create better software faster by automating the development processes. Another truly easy-to-use platform is JUDO. It is also a low-code platform aiming for enterprise use. In terms of data modeling, UI design, and development, JUDO offers much more flexibility for developers than other low-coding platforms.
JUDO is available for Windows, macOS, and Linux in both an installable package and a binary application package. JUDO code portal offers a rich documentation and a set of tutorials for newcomers. It also provides an extensive user guide as well as installation instructions to app platforms.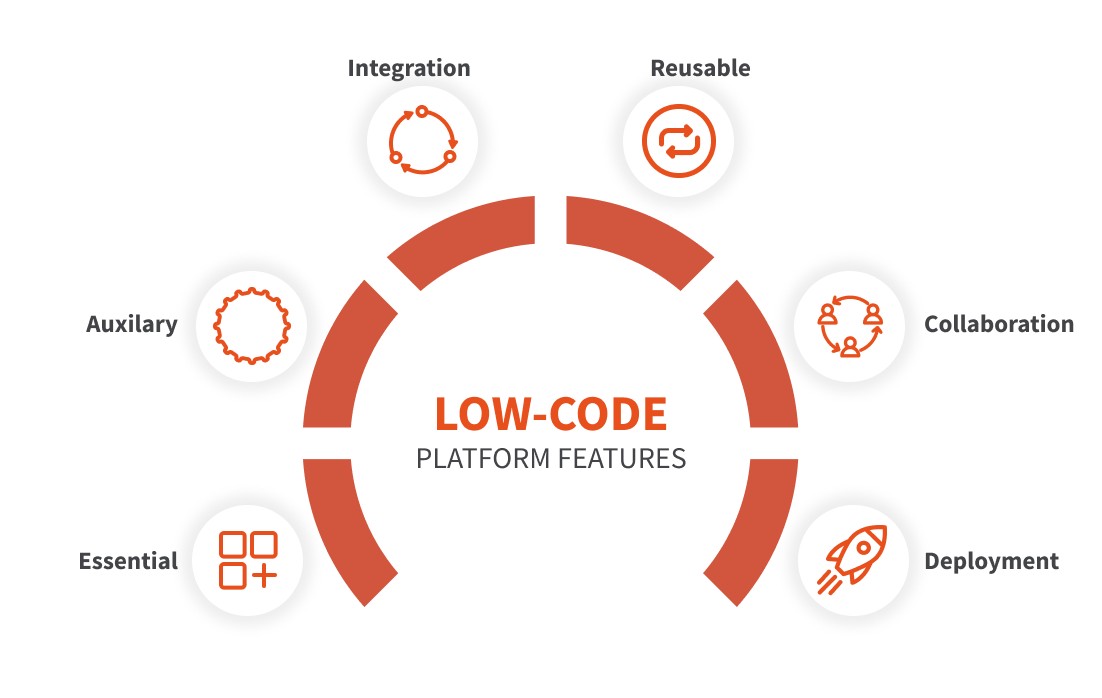 Judo was originally created by BlackBelt Technology as a developer tool for the in-house team. And for four years it has fulfilled its designated role very well. They fell in love with low-coding and especially with the Judo platform. So, why not to release it as a standalone product? - they asked each other. And the decision was made: Judo must become a real product for the Java community. It happened by the end of 2020, according to their plan.
Why go low-code? Top benefits of the method
Automation makes processes relatively easy to manage and speeds up the daily work as well. So, by using low-code, the competitiveness of the company eventually increases, which means not only daily benefits but understandably, strategic development as well. It helps to reach efficient collaboration between departments, eg. IT and IT service providers. With this method, even those who have not learned to code can also build applications. Therefore, it is not necessary to involve the IT department in every modification or introduction of a new process. Thus one can save not only resources but also time. However, a very important problem emerges regarding this method: the necessary negotiations between process managers - like business users - and programming-type process development, which, in the vast majority of cases, can lead to misunderstandings, inappropriate processes, and multiple use of resources.
There are several benefits of using these platforms:
IT collaboration and development capacity: the need for automation is increasing rapidly. And this requires more developers. But higher education cannot produce enough of them. With the help of low-code platforms, one can involve business actors and collaborate with software development experts without coding.
Resource savings: by using these solutions, one can significantly reduce the number of days spent on a project, as well as the turnaround time of the project. A leading low-code provider created a business marketing application with a low-code platform to increase efficiency. According to the preliminary estimate, a particular solution that would need 12 months to finish, involving five people by a code-based technology, could be completed with two people in 3 months using a low-code platform.
Low start-up costs: low-code developers, redeployed from the business world, have easy access to try out most platforms on their processes. And platform vendors, presumably due to competition, usually provide a wide range of training materials to get started online, so training can often be eliminated.
Security / Quality Assurance: naturally, software development experts are still at the forefront of developments. They control which data can be seen by low-code developers and which tasks they're allowed to perform.
Reasons for using low-code platforms: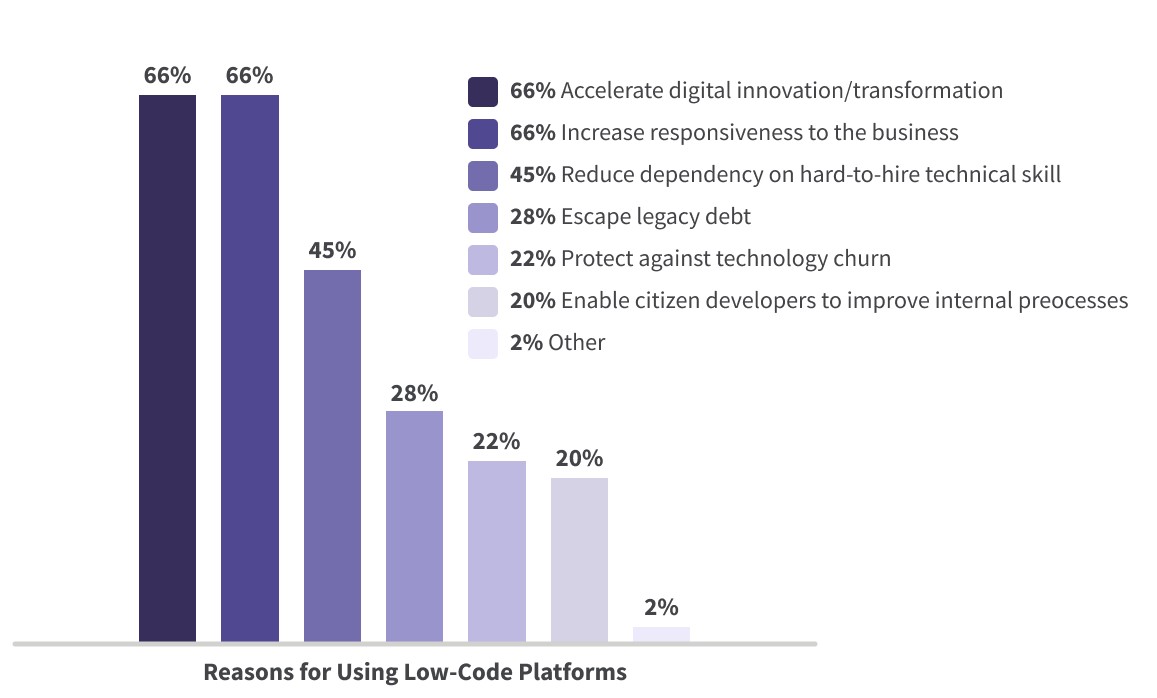 Low-code platforms promise projects to be completed faster and to incorporate customer feedback into agile software development from the start. Large companies are also increasingly turning to the low-coding method or low-code development platforms. Just as DevOps came a few years ago to coordinate development and operation, and then the agile methodology to make developments more flexible, now low-code development to accelerate development.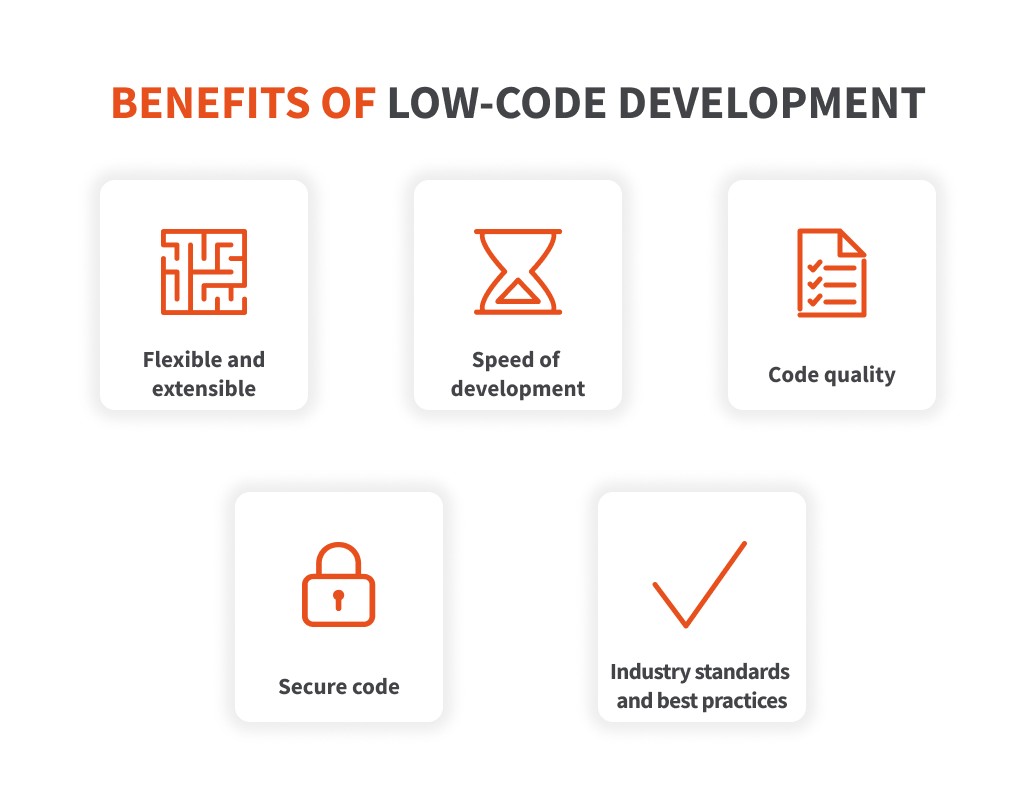 Low-code is an unavoidable technology for modern digital businesses. It allows developers and process experts to build prototypes in just a few days or complete solutions in weeks. The platform enables the automation of complex processes, the interconnection of different systems, and the modernization of legacy software. It simultaneously facilitates fast service to business needs and increases customer satisfaction. One can choose from a wide range of options, from customer service, business administration, or employee self-service system modules to custom, and customized solutions.